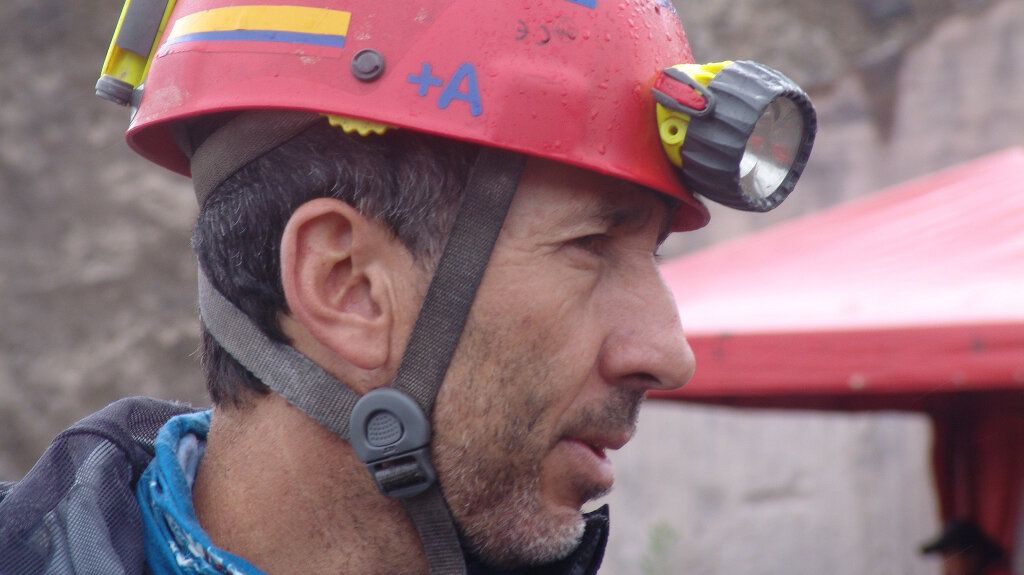 Mental strength is key in search and rescue work
Interview with IRO Classifier Engels Cortés
Dogs have always been part of his life. In his younger years, he financed his studies as a dog walker. In doing so, he taught the pets good manners and obedience to ensure harmonious walks. Meanwhile, Engels Germán Cortés Trujillo has been active in the search and rescue dog field for more than 30 years, training dogs to become lifesavers. In our interview he tells us more about his experiences.
How did you get into search and rescue dog work?
In November 1985, the volcano Nevado del Ruiz erupted in central Colombia. A huge mud and gravel avalanche was triggered, burying the town of Armero and killing about 25,000 people. I took part in the rescue operations as a volunteer and saw search dogs there for the first time, helping to find those buried under the rubble. Impressed by the idea of saving lives with the help of dogs, I made the decision in 1986 to train search and rescue dog teams in Colombia. I travelled the world, gained experience in international disaster relief and exchanged ideas with leading search and rescue dog organisations. After seven years of intensive training and hard work, we achieved our first local successes. Since then, I have led five search dogs and trained hundreds of groups in Latin America and Spain.

You have been active in search and rescue for more than three decades? What were the most defining moments for you?
In all those years, I was able to experience many great moments, but also had to cope with some difficult situations. The earthquakes in the Colombian city of Armenia in 1999, in Peru in 2007 and in Haiti in 2010 were particularly demanding. The impact of the natural disasters was devastating, and we emergency workers were confronted with very difficult conditions.
Latin America has a predominantly tropical climate. How does this affect the work of the search and rescue dog teams?
Search missions in tropical forests or areas up to 5,000 metres above sea level require special skills from both the dog handlers and their canines. The stress caused by heat and humidity is considerable. The response teams have to be specifically prepared for these demands. With the National IRO Mission Readiness Test, which was established by the International Search and Rescue Dog Organisation at the end of 2021, we have just this possibility. In region-specific scenarios, the operational capability of the search and rescue dog teams is tested according to globally recognised IRO Standards.
If you stop getting better, you have stopped being good.
As an IRO Classifier, what advice do you provide to dog handlers?
To be patient and accurate in training with their dogs. It is important to respect the training levels and take the time to consolidate desired behaviour. Handlers should never start search work unless the dogs' alert of the found person is of the required quality. This is a very common mistake that affects search success at tests and in emergencies.
Also, I constantly remind people that we are dog handlers and rescuers at the same time. Not only do we have to control our dogs, but we also have to be technically, physically and mentally up to the challenges of a search operation. This is why I attach great importance to preparing the participants of my trainings to be an effective resource in an emergency, not an additional problem.
My advice to mission-certified dog handlers is to keep challenging themselves and remain open to new suggestions. Because if you stop getting better, you have stopped being good.
Does your qualification as a psychologist allow you to cope better with the strains of a deployment?
Certainly, yes. My experiences help me to stay focused and calm. Time and again I notice that dog handlers have difficulty performing under pressure. I have observed this both in examinations and during missions. The dogs, on the other hand, provided they are well trained, are capable of performing even under stress.
Are there any tricks or instructions to better deal with stressful situations?
In addition to my psychology degree, I completed a Master's degree in neuropsychology. The question of how the human brain works under stress and how people can learn to perform under pressure has always interested me. I have published several scientific articles and a book on this topic. For me, it was a logical consequence to apply the principles of neuroefficient training to the education of search dog handlers. In fact, handlers who received the training were proven to perform better in search and rescue dog tests. The research results were published, and I also released the book Perros de búsqueda y rescate: Aprendizajes de una experiencia exitosa. It explains how to integrate neuroefficient training into the education of search and rescue dog teams.